Die britische Supermodel Rosie Huntington-Whiteley teilt in einem Video, das auf Vogues Youtube Kanal gepostet wurde, ihre Geheimnisse um eine perfekte Gesichtshaut zu haben.
In dem ganzen Video stellt sie alle Beauty Produkte vor und zeigt wie sie die benutzt. Nach diesem Video geht es klar wieso hat Rosie Huntington-Whiteley eine solche perfekte Haut. Ihre Beauty Routine dauert ingesamt etwa 5 Minuten. Kennst du noch nicht Rosie Huntington-Whiteley? Dann gehen wir ein bisschen mehr in ihres Leben ein.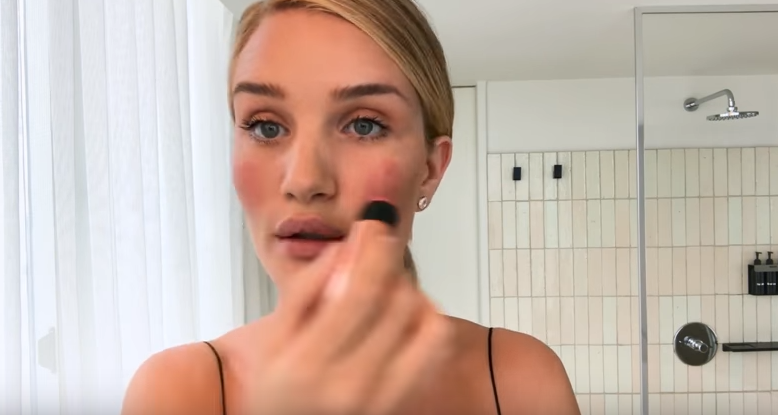 H/T:Vogue
Rosie Huntington-Whiteley ist nicht nur ein Supermodel, sondern auch eine Schauspielerin. 2003, als sie nur 16 Jahre war, hat ihre Karriere angefangen und nächstes Jahr wurde sie bereit Werbegesicht für Tommy Hilfiger. Seit 2006 arbeitet sie als Model für Victoria's Secret und vier Jahre danach schaffte sie auch auf das Cover der britischen Modezeitschrift Vogue. 2009 war ein wichtiges Jahr für Rosie Huntington-Whiteley weil sie mit dem Elle Style Award als "Model des Jahres" ausgezeichnet wurde und immer in diesem Jahr wurde sie zum offizieller Victoria's Secret Engel und damit fester Bestandteil der Victoria's Secret Fashion Shows, die in New York City stattfinden.
Aus dem schauspielerisch Standpunkt hat sie den Regisseur Micheal Bay beeindrückt und dass führte sie dazu, die weibliche Hauptrolle beim Michael Bays Film Transformers 3 zu spielen und hat die Schauspielerin Megan Fox ersetzt. Auch in der Kinowelt wurde sie geschätzt und 2011 wurde sie bei den CinemaCon Awards dafür mit dem "Female Star of Tomorrow"-Award ausgezeichnet. Immer 2011 wurde sie als Sexiest Woman of the World 2011 von den Lesern der Männermagazine gewählt. 2015 war sie in dem Cast von Mad Max: Fury Road.
Außerdem 2012 entwarf sie ihre eigene erste Unterwäsche Kollektion und 2016 wurde sie dafür von dem Zeitschrift Harper's Bazaar als Busineswoman of the Year ausgezeichnet.
Also sind diese Geheimnisse überhaupt nicht unterzuschätzen. Die haben Rosie Huntingtone-Whiteley geholfen zum Superstar zu werden. Und dieses Routine dauert nur 5 Minute.