Alexander Wang is another designer moving away from the traditional fashion calendar. The New York-based creative will now unveil two main collections in June and December in lieu of the New York Fashion Week schedule.
Wang showed his Spring 2019 ready-to-wear collection at Fashion Week in New York City over the weekend. This was a particularly special event for Wang, as his father was in attendance for the first time ever. "What a perfect one for him to attend," the designer said, "because the inspiration started with my mom and dad taking a trip together."
The designer embraced his family roots, a lacuna in his work. His family's and his own as a designer. Though his parents are long separated, Wang reunited them recently in Santa Barbara, and he heard their story about immigrating to America. "How could I have never asked them about it before?" he remembered, tearing up a bit. On his way backstage after one of his typically energetic bows, Wang stopped to give his family hugs.
The collection was a proverbial melting pot of references: Axl Rose bandanas and easy separates in bandana prints, football jerseys and a sexy dress made from a deconstructed football jersey, motocross gear, biker shorts of the sort Bella Hadid has been knocking around in, tricked-out leather jackets, embellished surgical masks, pelmet minis with chunky logo belts, and a nice pair of deeply cuffed, so-faded-they're-almost-white jeans. Plus, a new sneaker with Adidas. And Stars and Stripes face paint. It was hyper-styled yet still quite street. Blustery conditions aside—the presentation was held on-theme on a rooftop at the South Street Seaport—it was the most fun I've had at an Alexander Wang show in a while.
As a reflect of his own Taiwanese-American heritage, Alexander Wang's debut Collection 1 show for spring-summer 2019, was Mad Max, meets classic Americana with a gothic 'going out out' noughties twist. Wang focused on cool girl, biker chic styles with opening looks including plenty of leather, printed bandanas and belted accessories. Boxy jackets, miniskirts and branded shirts took over the runway. Or as Wang himself put it, 'it's rock 'n' roll the Wang way.' Wang is ultimately embracing his roots with this collection, and more specifically, his family, with the range being inspired by his parents and their immigration story.
Sports essence inspired by street clothes with grunge touches. It was made up of two-tone looks where black and white predominated totally, adding details in red with which It invigorates relaxed-looking garments with oversize cuts, allowing itself to be influenced by the aesthetics of the eighties in color blocks and transparencies. Sporty vibes were present in just about every look. But for his final section, Wang showcased lingerie inspired tops paired with baggy pants. Low slung satin combat trousers, handkerchief tops recreated in silver chains, and Paris Hilton circa The Simple Life-esque belt skirts, made this time literally from belts, gave the whole show a hit of nostalgic noughties trashy-chic.


Considerably patriotic, the assortment of garments consisted of red, white, and blue bandanas; football jerseys; biker shorts; leather jackets; and faded denim. Even the hair and make-up got given the stars and stripes treatment with models' faces being patriotically painted to mimic the iconic US flag. Although most models' hair was treated to hair legend Guido Palau's signature 'gritty Wang girl' waves topped with the snapback bandanas, others like Hiandra Martinez and Selena Forrest were given braids woven into thematically appropriate stars, whilst Binx Walton had her own name twisted into cornrows.
'It's not wavy, it's not straight—it's nothing-y texture,' he explained backstage while blasting small sections smooth with the new Dyson Supersonic dryer and leaving the rest air-dried before raking Redken's No Blow Dry Just Right Cream and Shine Flash from roots to tips. 'We wanted it to look very cool and downtown à la Axl Rose.'
Childish Gambino's recent anthem, "This Is America," rang out all throughout the space, as the likes of Bella Hadid and Kaia Gerber and the rest of their Wang biker gang strutted down the runway rocking printed snapback bandanas, the most unexpected fashion takeaway came in the form of Axl Rose-inspired bandanas.
Summary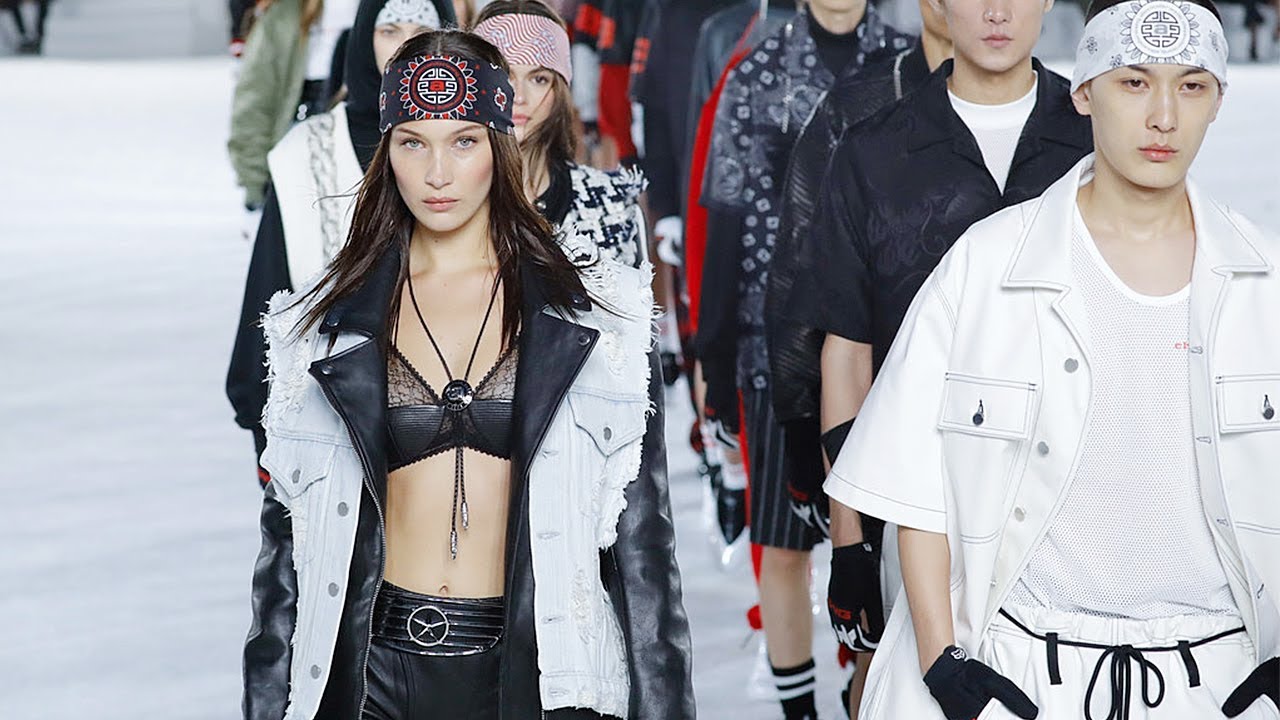 Title
Alexander Wang Spring Summer 2019
Description
Wang showed his Spring 2019 ready-to-wear collection at Fashion Week in New York City over the weekend. This was a particularly special event for Wang, as his father was in attendance for the first time ever. "What a perfect one for him to attend," the designer said, "because the inspiration started with my mom and dad taking a trip together."